The Artistic Home presents WEDDING BAND
---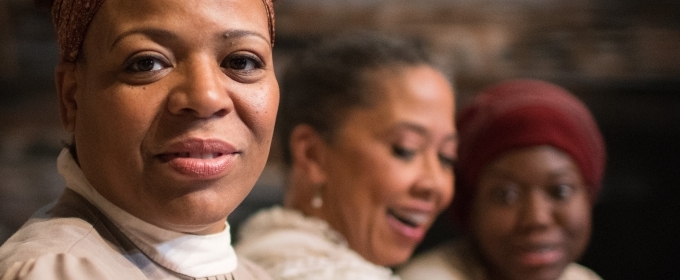 The Artistic Home will open its 2017-18 season with a lesser-known but very topical play: WEDDING BAND: A LOVE / HATE STORY IN BLACK AND WHITE, by a prominent African-American playwright and author. Alice Child. It opened to the press on Sunday, October 29 and will run until December 17, 2017. Last seen in Chicago in 2003 in a co-production between Steppenwolf and Congo Square Theater, its first-ever performance here thirty years ago. was just a stop. in the march of this piece towards the recognition it deserves.
Childress made a name for himself as a playwright unafraid to explore the ugly realities of race, but even so, WEDDING BAND's very explicit portrayal of an interracial relationship hit a nerve. Although it is established in the New York Theater sphere, Childress could not find a company willing to produce it. So it took the play west, and it premiered at the University of Michigan at Ann Arbor in 1966, four years after its completion, and a year before the landmark Supreme Court ruling on Loving v. Virginia has overturned laws banning interracial marriage. Then, after a six-week engagement in Chicago at the Ivanhoe Theater in 1972, the play returned to New York City to Joseph Papi's Public Theater, in a series featuring Ruby dee and James Broderick. The obstacles surrounding the room didn't stop there. Although it was filmed for airing on ABC TV, some affiliates refused to air it; other affiliates simply buried it in a late night "graveyard" slot.Childress's drama takes place in the summer of 1918. There is a war in Europe and a smaller war in South Carolina. Julia is an African-American seamstress and Herman is a German-American white baker who has been keeping her company for 10 years. Neighbors and family disapproval of their affair, along with South Carolina laws banning interracial marriage, make it increasingly difficult for them to stay together.
WEDDING BAND is directed by Cecilie Keenan, a director and producer of many Chicago theaters for the past 20 years, but perhaps best known for her work with Teatro Vista, American Blues, and Apple Tree Theaters.
She said, "Although we are more likely to think about Lorraine Hansberry as a pioneer among black playwrights, I believe Alice Child was at least as important. She is not as well known as Hansberry because she did not gain attention at the time – her pieces were too realistic and uncompromising for audiences at the time. She was definitely ahead of her time. "
Artistic director Kathy scambiatterra says, "We've been interested in producing WEDDING BAND since we made Childress's TROUBLE IN MIND in 2011. We're excited to bring WEDDING BAND back to Chicago and introduce new audiences there."
In the roles of the interracial couple are Raina Lynn as Julia and ensemble member Scott Westerman as Herman. Keenan's cast will also include ensemble members Reid Coker (Bell Man) and Laura Coleman (Annabelle) with guest artists Susan P. Anderson (Fanny), Maya Hooks (Teeta), Lisa McConnell (Lula), Donna McGough (Herman's mother), Madison Murphy (Princess), Myesha-Tiara (Mattie) and Kevin patterson. (Nelson). The design team includes Kevin Rolfs (stage design), Zach Wagner (costume design), EJ Jackson (lighting design), Joseph Cerqua (original music), Zach Berinstein (sound design). Madeleine Lyons is a manager.
WEDDING BAND reviewer in 1972, New York Times 'Clive Barnes described the "poignant strength" of Childress' characters and their plight. Re-examining it for his TV show, John J. O'Connor of the same newspaper called it "a marvelous, extremely detailed portrait of the period, a complex blend of searing realism and poetic lyricism." For her most recent professional production in 2016 at Seattle's Intiman Theater, the Seattle Times called it "unbelievably, immediately real," while Seattle Weekly called it "an unforgettable play."
The production is playing at The Artistic Home Theater at 1376 W. Grand Avenue until December 17th. Tickets are on sale now and can be purchased by phone at 866 / 811-4111 or online at http://www.theartistichome.org/. The performances are Thursdays at 7:30 p.m., Fridays and Saturdays at 8:00 p.m. and Sundays at 3:00 p.m.

Raina Lynn, Scott WestGerman

Raina lynn

From left to right: Raina Lynn, Susan P. Anthony, Myesha-Tiara

L / D: Kevin patterson, Raina Lynn, Lisa McConnell; Myesha-tiara

(Left to Right) Raina Lynn, Madison Murphy, Reid Coker, Maya Hooks

(Left to right) Maya Hooks, Myesha-Tiara; Photo 7 – Raina Lynn, Scott WestGerman

L / D: Kevin patterson, Raina Lynn, Lisa McConnell; Myesha-tiara

(Left to Right) Raina Lynn, Madison Murphy, Reid Coker, Maya Hooks

(Left to right) Maya Hooks, Myesha-Tiara; Photo 7 – Raina Lynn, Scott WestGerman

Raina Lynn, Scott WestGerman

Raina Lynn, Scott WestGerman