Royal wedding music: what will be played at the house of Princess Eugenie and Jack …
---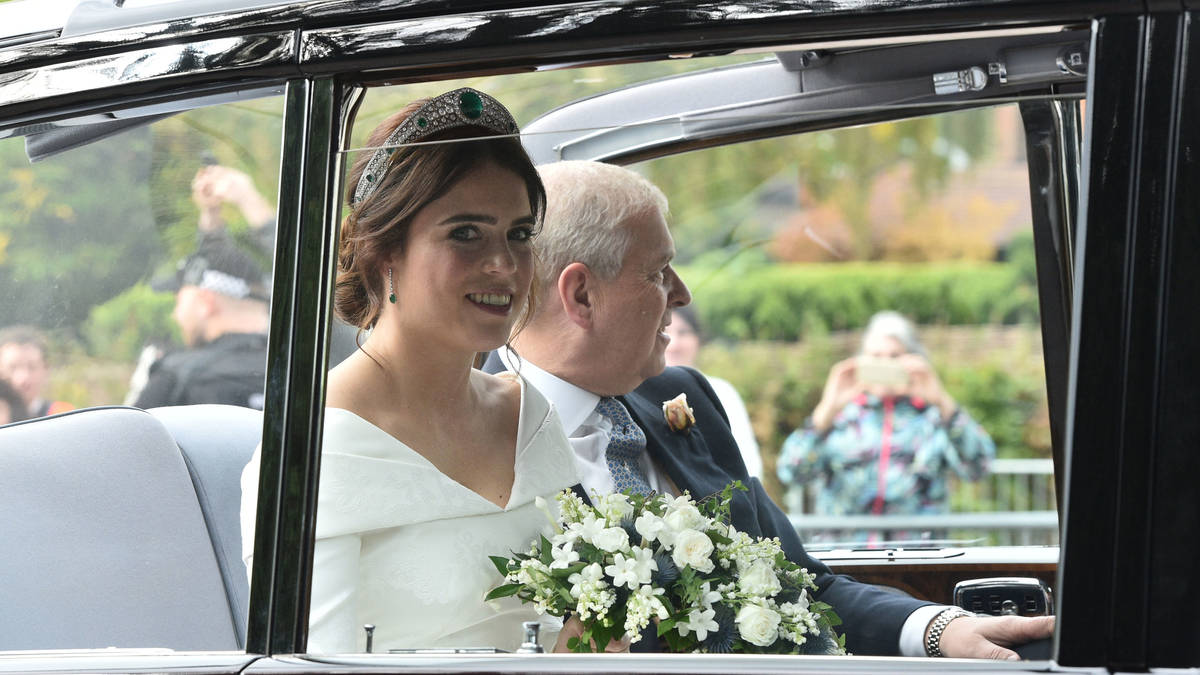 12 October 2018, 11:18 | Updated: 15 October 2018, 09:12
Experience all the music from Princess Eugenie and Jack Brooksbank's wedding ceremony, which took place last Friday at St George's Chapel in Windsor
The royal couple married on Friday October 12 at the same church where the Duke and Duchess of Sussex celebrated their wedding earlier this year.
Like Prince Harry and Meghan Markle, Princess Eugenie and Jack Brooksbank have included traditional musical elements in their service, while giving the service their personal touch.
Read more: What music was played at Prince Harry and Meghan Markle's wedding?
The music
TO 10:15 a.m. the RPO, led by Barry Wordsworth plays:
March from A Moorside Suite – Holst
String Suite – John Rutter
Minuet from A Downland Suite – John Ireland
An English suite – Parry
Allegretto by Serenade for strings – Elgar
The arrival of the bride
Aventus – a fanfare specially composed by Lieutenant-Colonel Darren Wolfendale
Organ Piece – JS Bach (performed by Peter Roper-Curzon
Andrea Bocelli carried out :
'Ave Maria' by JS Bach, arranged by Gounod, with RPO and conducted by Carlo Bernini. Learn more about this piece>
'Panis Angelicus' by Franck. Learn more about this piece>
The hymn
A Gaelic Blessing – John Rutter (performed by St George's Chapel Choir, Windsor)
Signing of registers
'Ubi caritas' – Maurice Duruflé (performed by the Choir of St George's Chapel, Windsor)
"My mind sang all day" – Gerald Finzi
Feet-in-the-air (from Capriol Suite) – Peter Warlock
The National anthem
The procession of the bride and groom
Final of the 1st Symphonic, Op.14 – Louis Vierne
Organ music
Before service, organist Lucy Morrell performs:
Organ Sonata No.3 in A major – Mendelssohn
Prelude and Fugue in G major – JS Bach
Morning Song – Elgar
From 9:40 a.m., assistant director Luke Bond performs:
Mohrentanz – Tylman Sustao
Sinfonia from Cantata BWV 29 – JS Bach
Presto comodo (from Op. 28) – Sir Edward Elgar
Intrada – Grayston Ives
Allegro (extract from Trio Sonata No.5), BWV 529 JS Bach
As the choir and clergy arrive, Peter Roper-Curzon plays:
Allegro from Organ Sonata No. 1 – JS Bach
Rhosymedron – Vaughan Williams
What will the hymns be?
St George's Chapel Music Director James Vivian has written new descents for two of the hymns that will be performed at the ceremony:
"Glorious things about you are said" (text: John Newton; music: Cyril Taylor; decant: James Vivian)
"Immortal, invisible, Gold only wise" (text: W. Chalmers Smith; music: John Roberts)
'Love Divine, all loves excelling' (text: Charles Wesley; music: William Rowlands; decantation: James Vivian)
James Vivian also directed the music during the wedding service for the Duke and Duchess of Sussex while the choir was made up of 23 male choristers and 12 lay clerics.
Who are the musicians?
The world famous tenor Andrea Bocelli will perform two songs during the ceremony: 'Ave Maria' and 'Panis Angelicus'.
Music will be provided by members of the Royal Philharmonic Orchestra – the princess's father, the Duke of York, is the patron of the orchestra. The conductors are Carlo Bernini and Barry Wordsworth. James Williams, Managing Director of RPO, said in a press release: "It has been a great pleasure working with HRH Princess Eugenie and Mr. Jack Brooksbank to plan the music for their special day and we wish the couple the best of luck. for their future together. . "
The organ will be played by Luke Bond, Assistant Director of Music at St George's Chapel in Windsor.
Military musicians
There will also be a specially composed marching band performed by the State Trumpets of the Domestic Cavalry Marching Band – who recently performed in their superb badges at Classic FM Live.
Pipes from the 2nd Battalion, The Royal Regiment of Scotland will perform from the Garter Tower as the royal couple set off in horse-drawn carriages after the ceremony.
Military involvement in the ceremony has a personal connection to Jack Brooksbank, whose great-grandfather, Sir Jack Coke, was an officer in the Scots Guards.
How can you watch the wedding?
The Royal Wedding will be broadcast live on ITV as part of an extended edition of This morning, Friday October 12 from 9.25 a.m.